Goodness To Go: A Handbook For Humanitarians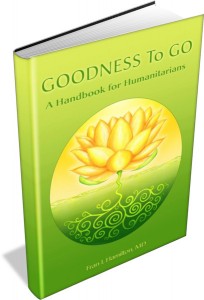 Goodness To Go is the name of a social enterprise and the title of a handbook for humanitarians written by Fran I. Hamilton, M.D.  Proceeds from the sale of the handbook benefit the missions of the Goodness To Go social enterprise.
The handbook's intent is to mobilize the spirit of giving by offering a process to clarify and mobilize your goodness to go in ways that are sustainable and enjoyable.
This kind of integral service is a cycle of giving and receiving between equals that is aligned with core values and uplifts the human spirit. At this historic time that calls forth the spirit of service in us all, Goodness To Go is your personal guide to positive transformation as you manifest your gifts of service to benefit our world.